At Touhenboku Ramen, our noodles and soups are made freshly every day with no preservative. Also, tori-paitan style soup is made according to Japanese tradition.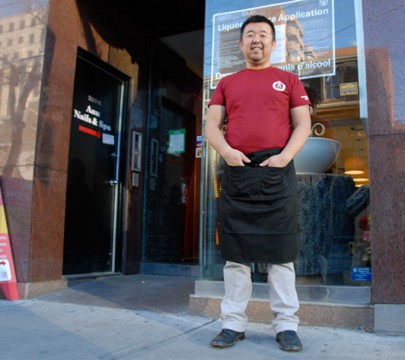 Zuimei Okuyama – Founder of Touhenboku Ramen
What Makes Touhenboku's Ramen Special?
At Touhenboku, our ramen's distinctive taste comes from our traditional Japanese slow-cooked chicken broth, called mizutaki. We then add your choice of thick or thin fresh, made from scratch, ramen noodles and your choice of lean pork, rich pork, or chicken chashu. We throw in a little seaweed, a boiled egg, some delicious wood ear mushrooms, and top it off with fresh green onions. One taste is all it takes.
"I want people to know the true taste of fresh ramen" says Zuimei, founder of Touhenboku.
Zuimei trained at the Shokuno dojo, a famous ramen school in Chiba, under Ishigami-san. He opened his first Touhenboku in Ueno, a suburb of Tokyo.
Touhenboku is Japanese for blockhead. The name is an homage to a cafe of the same name that head chef Zuimei used to frequent when he was young.